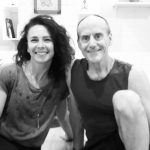 This Workshop was so amazing, funny, playful & inspirational, technically but also emotionally !
The most challenging in Yoga is not to start or to stop practicing BUT to maintain it on a regular basis and on a long period of time in our Life.
📌 Keep on practicing, keep on learning, keep on being motivated, conscious & inspired in your daily actions what ever happen in your Life !
📌 Try to build a regular personal practice, get on your mat ….it does not need to be for a long time.. 10, 15, 30 min are enough when time is limited…
📌 Nourish your mind, body & soul with positive vibes & energies. Breath & Think in full consciousness.
Life is much easier with Yoga . It can help you when going through difficult time 🙏
Yoga brings us to the essence of Life ! ✔What is important in your Life? ✔Who is important in your Life?
Life is a journey, made of good and bad…. We learn from mistakes, from struggle, from experience…it makes us growing !
We do not know what Life has in store for us…Go with the Flow…cultivate Love & Respect towards yourself & others…Share it…
Use the juice of Yoga for making the world a better place to live 🙏
Happy Life Journey❣